Weird Fish Shines Bright with "Best Fashion Website" Win at Ecommerce Awards 2023
London, September 2023 - The prestigious Indigo O2 in London was ablaze with excitement as Weird Fish, the iconic lifestyle fashion clothing company, secured Bronze in the coveted "Best Fashion Website" award at the Ecommerce Awards 2023. This outstanding achievement not only reflects Weird Fish's dedication to delivering top-notch fashion but also underscores its commitment to providing a stellar online shopping experience.
The Ecommerce Awards, an annual celebration of excellence in the digital retail industry, brought together industry leaders and visionaries. Weird Fish's win highlighted its exceptional approach to website design, seamless navigation, and cutting-edge features, all of which are expertly crafted and maintained in partnership with Webselect Ltd., their dedicated ecommerce platform partners.
Webselect Ltd., the trusted architects behind Weird Fish's award-winning website, played a crucial role in helping the brand secure the title of "Best Fashion Website" at the Ecommerce Awards 2023. The partnership between Weird Fish and Webselect Ltd. encompasses everything from building and maintaining the site to ensuring it performs at peak levels, converting visitors into loyal customers.
Weird Fish's website is a striking fusion of function and creativity, a reflection of the company's unwavering commitment to customer satisfaction. The intuitive layout, visually captivating design, and a comprehensive range of user-friendly features make for a seamless shopping journey for customers. Whether you're in search of cozy knitwear to embrace the winter chill or vibrant graphic tees to make a statement, Weird Fish's website offers a delightful and efficient shopping experience.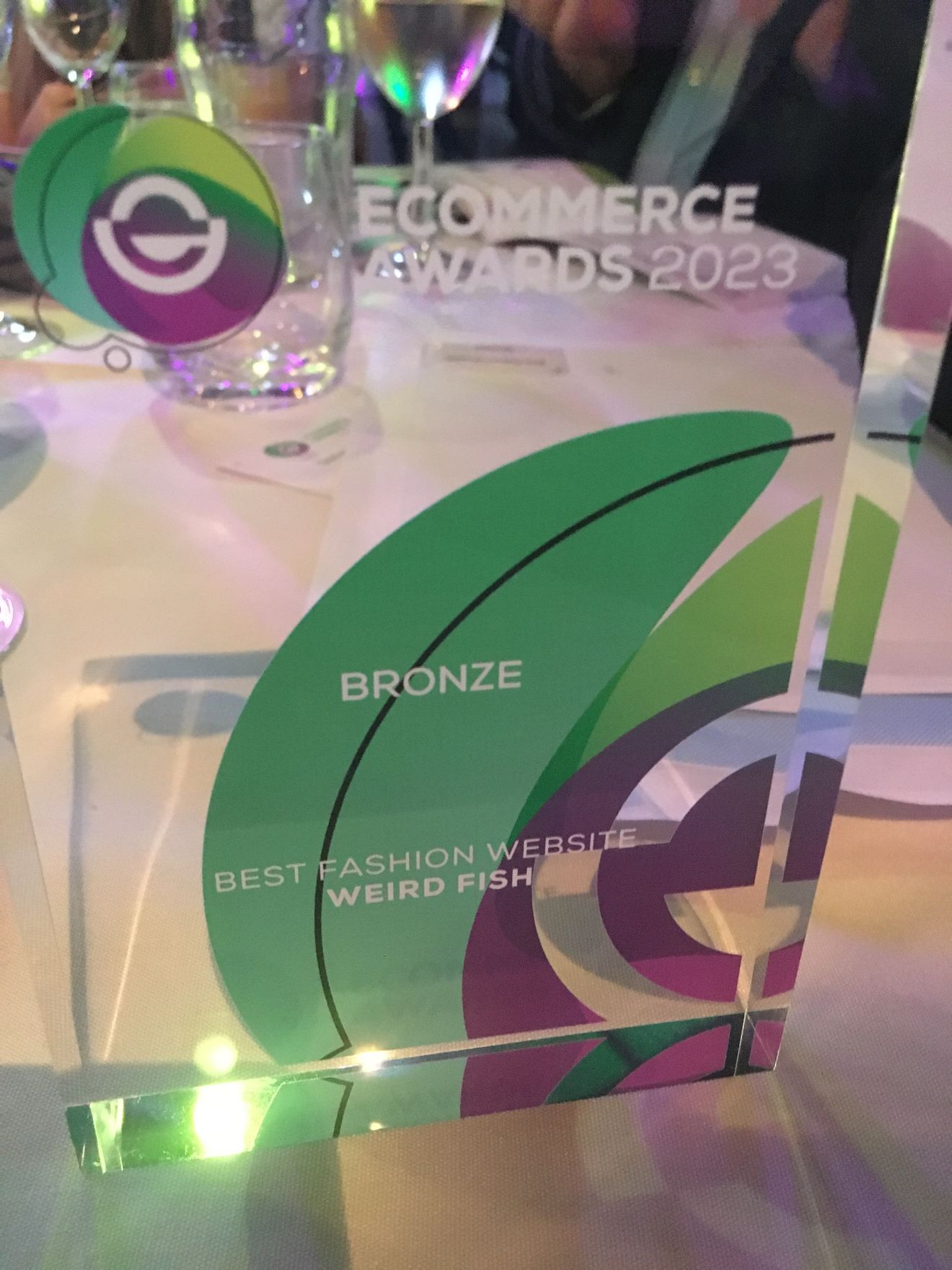 "We are really proud to have won this award as a recognition of our site's UI, UX, shopping experience and rich integrations that makes Weird Fish a superb online shopping experience. We have a very close partnership with Webselect Ltd. to help us achieve this, based on their SelectCommerce platform, we have the best control and flexibility helping us achieve enormous growth over the years"
Steve Hammond - Head of Ecommerce, WeirdFish

Weird Fish's win reaffirms its position as a frontrunner in the fashion e-commerce industry. By combining exceptional clothing with an outstanding online shopping experience, Weird Fish has not only set the industry standard but continues to push the boundaries of digital retail innovation.
As the ecommerce platform partners of Weird Fish, Webselect Ltd. continues to play a pivotal role in ensuring the website's high performance and conversion rates. Their expertise in creating and maintaining seamless, high-converting online retail platforms contributes significantly to Weird Fish's ongoing success.
To explore Weird Fish's award-winning website and immerse yourself in their latest collections, visit weirdfish.co.uk. Experience firsthand what makes them the "Best Fashion Website" of 2023 and discover the magic of their partnership with Webselect Ltd. as they continue to redefine online shopping in the world of fashion.
With their expertise in e-commerce platform development, user experience optimisation, and digital marketing strategies, Webselect Ltd. can help businesses navigate the digital landscape with confidence.